Flickr or Picasa ? Twitter or Jaiku ?
Should you really choose ?
Adopt'em all !
LiFE-Line is a lifestream based system which aggregates all your content from third party Web services (like Flickr, Delicious, YouTube, etc) and relays them on same page.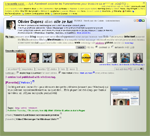 Main features :
Organized lifestream for your content which helps your readers discover your blog posts, favorites, photos, videos, places, events, and more.
Dedicated lifestream for your activities reported from micro-blog (Twitter, Pownce, Jaiku, Frazr, etc) and usages trackers (Cluztr, LastFM, iLike, Wakoopa, etc).
Full list of your profiles around the Web to invite your readers to join your networks.
Tags based search engine enhanced by automatic tags generator which provides results instantly.
Webmail based UI which gives control to your readers to mark your items as read and push more content on top.
And much more features... but our life is way too short to enumerate all of them...
Discover the power of LiFE-Line with our members :
You will never find better than this anywhere.
LiFE-Line is « Rolls-Royce » of lifestreaming, no more !
Follow LiFE-Line's channel on Jaiku.
And leave feedback (or discuss) on GetSatisfaction.
Learn more about lifestreaming on Lifestream Blog by Mark Krynsky.